How to transfer funds from IDFC First Bank app to CoinDCX wallet?
Follow these steps to add funds in your CoinDCX wallet
1. Click 'Add' on the homepage of CoinDCX app and then select 'Add Funds'.
​
​
​
​
2. Enter the amount you want to transfer to your CoinDCX wallet and proceed.
​
​
​
​
3. Choose Net Banking option and click on 'Continue' to proceed adding funds to CoinDCX wallet.
Note: Always transfer funds from the bank account registered with CoinDCX.
​
​
​
​
4. Copy the details provided [Account No. / IFSC Code / Bank Name / Remarks]. These details are to be added as a beneficiary in your account to proceed with the bank transfer.
​
​
​
Add CoinDCX as a Payee/Beneficiary in your IDFC First Bank
Log in to your IDFC First net banking application/website and click  on 'Send Money'.
​
Click on the 'New Payee' tab.
​
In the 'New Payee' section, enter the beneficiary Account No., and then search for 'Equitas Bank' in the Bank Name option. 
​
Enter the IFSC Code and Account holder name. 
​
​
​
Select 'Quick Transfer' and enable 'Add to payee list' option. Double-check the details you've entered and tap 'Continue'.
​
Provide the OTP received on your registered mobile number and proceed by tapping 'Verify'.
​
​
​
It may take 2-4 hours for the new beneficiary to be activated. 
​
Transfer funds from your IDFC First Bank app to CoinDCX (beneficiary)
Once the beneficiary is activated, please click on the 'Send Money' option. 
​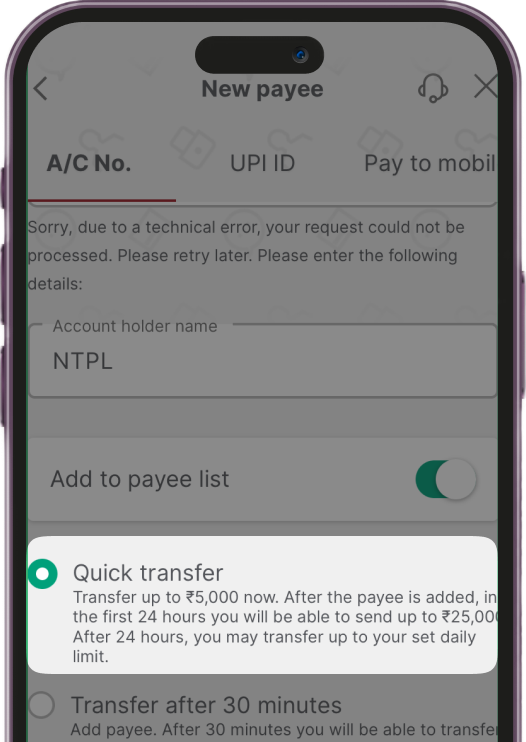 ​
​
Select the CoinDCX bank account that you've added as a beneficiary/payee.

Enter the exact same amount you had deposited in the Step 1 of adding funds in CoinDCX wallet.

Select IMPS as the payment mode, and click on 'Confirm and send money'.
​
You will receive an OTP on your registered mobile number/email ID. Please enter the OTP to verify the transaction.
​
​
Complete the deposit process in CoinDCX app
1. You will receive an SMS with the UTR Transaction ID (Reference ID). You need to enter this Transaction/Reference ID in the space provided as Transaction ID on CoinDCX app. Click 'Submit'.
Note: You may also find the Transaction/Reference ID on your banking app payment successful page.
​
​
​
2. Check all the details and tap 'Confirm'. Your funds will be added to your CoinDCX account within 2-4 hours.. 
Note : Always transfer the same amount of funds as specified by you in Step 1 of adding funds & do not forget to add your CoinDCX registered mobile number as remarks while transferring funds.
​
​
​
3. We'll notify you via email or notifications as soon as your deposit is completed. You're now ready to buy, sell, and trade on CoinDCX!